Dr. Chris Claypoole, a local dentist, announces the opening of his new dental practice, All People Dentistry. An advocate for good oral health, Dr. Claypoole seeks to serve all types of patients with personalized, compassionate dental care.
Dr. Chris Claypoole was raised in the city of Durham, NC and grew up around dentistry. His father, an orthodontist, taught him lifelong lessons that Dr. Claypoole strives to carry over into his own practice. "My passion for dentistry comes from my father," says Dr. Claypoole. "My dad was very active over at the UNC dental school. He always had me with him when he would visit his colleagues and present cases. So, I was around dentistry most of my younger life."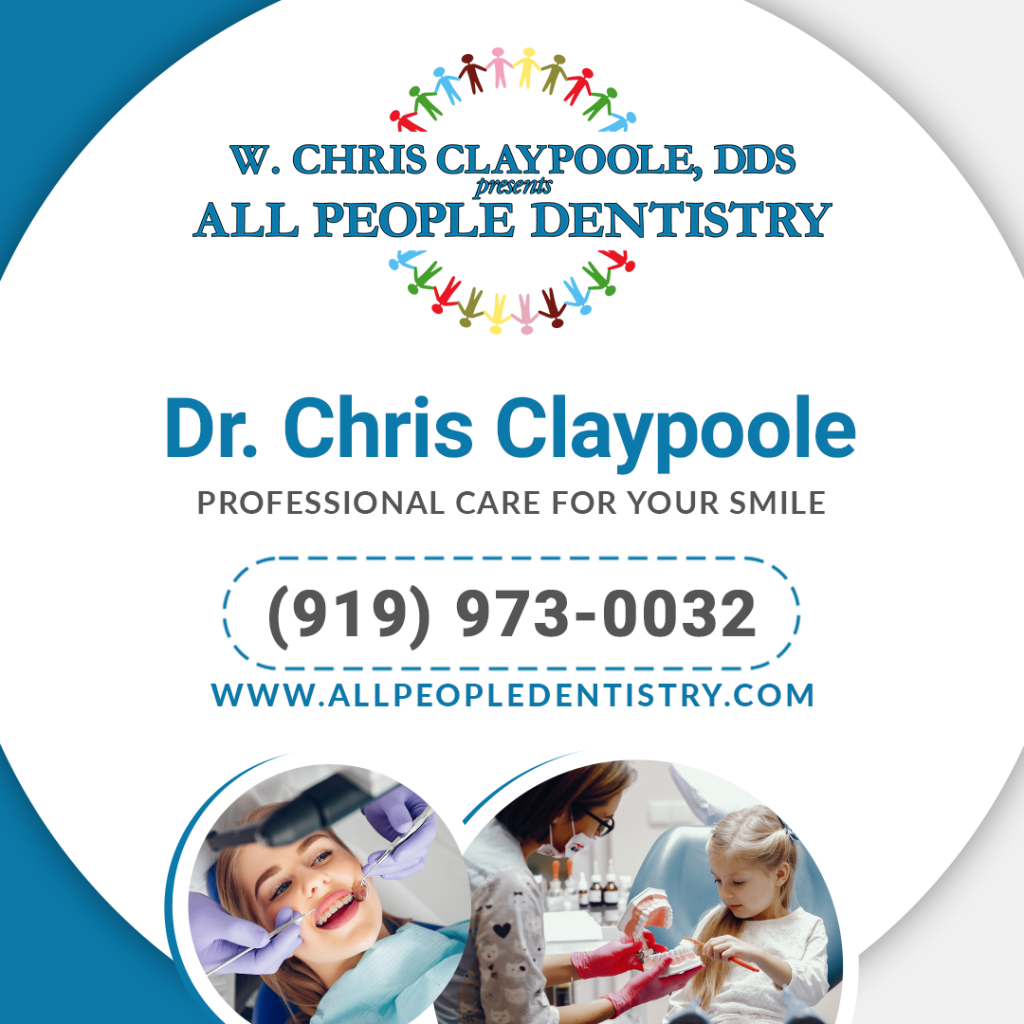 A 1999 graduate of the UNC Adams School of Dentistry, Dr. Claypoole has been practicing dentistry for over twenty years. Early in his career, he had opportunities to work across the state of North Carolina, including in Rocky Mount, Greensboro, Mooresville, and Wilmington. He saw a wide range of patient populations and came to understand the need for dental care that caters to all people. Dr. Claypoole also observed that people, regardless of their different backgrounds, shared similar concerns and apprehensions about going to the dentist. From worrying about the costs to wondering if a procedure will hurt, people could be hesitant to receive the dental care they needed.
Dr. Claypoole's experience serving diverse communities paved the way for All People Dentistry. He has the vision to provide patients with a dental experience that is positive, comfortable, and gentle. By putting patients at ease and giving them confidence in their dentist, Dr. Claypoole hopes to bridge the gap for people who know they need to go to the dentist but are reluctant to make that first appointment. Building relationships with people helps cultivate trust and peace of mind.
When patients visit All People Dentistry, the goal is to make them feel comfortable and accepted, no matter their financial situation or the condition of their teeth. Dr. Claypoole elaborates on his perspective, saying, "The way I see it, a tooth is a tooth is a tooth. I treat each patient with respect and offer the same level of care to every patient that I see."
Comprehensive dental care is foundational to Dr. Claypoole's approach. First, he seeks to identify the root cause of an issue by taking the patient's whole medical history into consideration. He also educates the patient about good oral health. Then, he creates a plan of action to address individual dental care needs. With the dentist and the patient working together, the treatment plan is implemented in a manner that accommodates the patient's schedule and pocketbook.
In order to stay at the forefront of modern dental practices, All People Dentistry features a paperless office. This practice saves space, supports the environment, and, most importantly, is more convenient for the patient. Office technology also includes the NOMAD handheld x-ray system, which delivers x-ray results immediately and is more comfortable for the person in the dentist chair.
The new patient experience is intentionally easy and stress-free. All People Dentistry strives to ensure every patient has a positive experience and a productive visit. To prepare for an appointment, patients review basic information about the practice. The hours of operation are Monday through Friday from 8:30 am to 4:30 pm. Patients with situations requiring emergency dental services are directed to call the office at (919) 973-0032. One of the most stressful aspects of dental care is paying for the services. All People Dentistry accepts the following payment options: cash, personal checks, Visa, Mastercard, Amex, Discover, and PayPal. When first visiting the dental practice, patients provide basic information to establish dental records. Current insurance information, if available, is needed for the first appointment. All People Dentistry provides online forms to speed up the registration process. The following insurance providers are accepted: Blue Cross Blue Shield, Delta Dental, and Medicaid. All People Dentistry seeks to accommodate patients who have an insurance provider other than those listed and will file on the patient's behalf with their insurance provider.
All People Dentistry offers dental services including cleaning, deep cleaning, whitening, bonding, dentures, partials, implants, implant retained dentures, implant restoration, front teeth root canals, and either amalgam or silver fillings.
All People Dentistry is a dental practice that serves all people. Led by Dr. Chris Claypoole, the team strives to provide comfortable, friendly dental care so that patients can achieve their dream smile. People in Raleigh, Chapel Hill, and Durham can rely on All People Dentistry for gentle solutions to general, cosmetic, and aesthetic dentistry needs.
###
For more information about the dentist in Raleigh, visit the All People Dentistry website at www.AllPeopleDentistry.com. The staff can be contacted by email at Info@AllPeopleDentistry.com or by phone at 1 (919) 973-0032.